Monthly Archives:
April 2012
Speaking of falling in love with fictional characters . . . next on my list is Mr. Darcy, I mean Pride & Prejudice, by Jane Austen.  I wrote a fantastic paper my junior year of college on how (in the novel, though not the films) Elizabeth Bennett didn't really fall in love with Mr. Darcy until she saw Pemberly.  But then, who wouldn't fall in love with Pemberly?
I remember back in 1997, I heard about this children's book author whose first book was starting to climb the charts over in the UK and was making its way over to the US.  At the time, I thought, hmm, that sounds like a pretty cool idea.  I may have to pick that up.  I did.  I am forever indebted to J.K. Rowling for attracting a whole new generation of young people to books.  Now my daughter has read them all, as well.  Expecto Patronum!
I have fond memories of my mother-in-law, Lynn, who sadly passed away while I was expecting her second grandchild.  I used to call her at least once a week, more often while she was sick and going through chemo.  One of the things we always talked about were books.  She asked me if I had read The Da Vinci Code and what I had thought about it.  I went right out and purchased it and was hooked.  Sensationalistic or not, Dan Brown's writing is gripping, adventurous, and laced with detail.  I especially liked how well he described Paris and London.  My mind's eye revisited every location and raced alongside Sophie and Robert on their modern-day quest.
And now for my further homage to popular young adult literature:
I already told you how much I loved Harry Potter & The Sorcerer's Stone, but what profoundly affected me was how much J.K. Rowling matured her characters from book to book, as if they were real people growing up.  The Order of the Phoenix absolutely and profoundly affected me at the end, when Harry and Dumbledore have their coming-of-age discussion.  It was hard to read the words through my tears.  The same is true of the end of The Half Blood Prince and the last couple of chapters of The Deathly Hallows.  Amazing.
Before Twilight and The Hunger Games became the huge entities that they are, I picked both of these series up and swallowed them whole, and then shared them with my husband, who also devoured them.  Love 'em or hate 'em, both Stephenie Meyer and Suzanne Collins have, like J.K. Rowling, done a great job pushing past the barriers of young adult fiction and garnered an impressive adult audience.
Please don't punish me for lumping these two series together.  I know that they are far different creatures from each other.  However, they both hold similar places in my heart . . . and apparently in the young adult book & movie market. 

Before there was True Blood on HBO, there were Charlaine Harris' adroitly written Southern supernatural Sookie Stackhouse series.  As much as I love True Blood, I gotta say, the books are far better.  They may not have quite as much language and sex, but they have their share.  More importantly, though, they have heart.  Quite a bit of it, actually.  And they're funny in all the right places.  I think Ms. Harris sets the gold standard for "rural" fantasy; I can't really call it "urban" fantasy since most of the stories take place in sleepy little Bon Temps.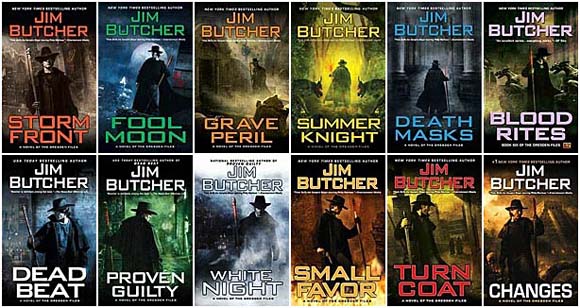 Now, if you actually want URBAN fantasy, there is none better than Jim Butcher's Dresden Files.  These books made me fall in love with Chicago (somehow) and wish that there really were passageways to the nevernever, and a certain "other wizard named Harry" in the Chicago area phone book who also works as a P.I.  Hard boiled and fun, gritty and dangerous:  Harry Dresden and friends – and enemies, for that matter – NEVER disappoint!
I flat-out never liked romances, especially historical romances, until something compelled me to pick up Madeline Hunter's The Saint.  Since then, I've read ALL (every last one) of her books.  Ms. Hunter can write the romance and the passion with the best of them, but her more important gifts are two-fold: her devastating attention to historical period detail, and the characterization of her male heroes.  They are men of their times, and demonstrate the values and mores of their times, while still granting readers the tall, dark and handsome flawed beauty they crave.
My mother also recommended an incredible book to me, actually a book series.  For those of you who like historical mysteries, this is a special treat.  It is feminist in its leanings, though not doggedly-so.  Jacqueline Winspear's Maisie Dobbs' series pairs investigation with psychology and adds in quite a bit of intuition.  This series reads like a tragedy in a lot of ways, as well, since all of the characters, including Maisie herself, have been shell-shocked by World War I.  As the series progresses, Maisie sees the climate shift as her beloved Britain heads its way, no turning back, into World War II.  And between these two cataclysms, Maisie must find her way, on extremely uneven footing, as the brilliant daughter of a green grocer, a downstairs servant, who has, inexplicably, risen to the upstairs world.
Who doesn't love Sherlock Holmes?  Who doesn't wish that he could have found a life-mate, other than Watson, who could match him, wit for wit?  It may seem incredible, but Laurie R. King did this when she created Holmes' protegee, Mary Russell.  These books are delicious, and, like Jacqueline Winspear's Maisie Dobbs' series, have a feminist slant.  Ms. Russell is not afraid to wear the pants, do the hard work, and even cut her long blond locks, should the case warrant it.  With the added flavors of religion, languages and exotic locales, these new Holmes mysteries, took my breath away.  I put away my constant yen for science fiction because of these mysteries.  Now the first area of the bookstore I head for is the mystery section.
But I owe my love of a good and solid female protagonist, always and forever, to Marion Zimmer Bradley, whose classic The Mists of Avalon, I discovered while I was in graduate school.  I have always loved the Arthurian legends, but this re imagining of Morgaine, not as the vixen villain, but as the lonely and misunderstood heroine, made me yearn for still more novels that allowed women to leave their pedestals, leave their second-class status, and take a more active role in the world, in history, in magic, and in life.
Yes, there have been many, many more books that have shaped me in some way over the years, but these are the ones I call to mind the most often.  Thank you, authors, for providing me with such a range of intellectual growth and emotion.  I can only repay you by doing my best to write novels that affect someone else in the way you've affected me.
Thanks!